Welcome to the electronic version of the
F
ast
M
atrix
S
olver (
FMS
) Manual. This document has been designed to help you find the information you need as quickly as possible.
This manual is written in English. You may use the Google Translate feature to display the pages in over 100 languages. Because this feature requires Internet access and the hosting of this manual on a WEB server, it is only available when viewing online.
There are several options on how to view this manual:
View HTML Online (preferred)
You may read the most recent HTML version of this manual by clicking on the
View HTML Online
link at the top of this page. This will provide the most up-to-date information and includes a printer friendly format. This on-line version also supports Google Translate, providing the option to view the content in over 100 languages.
View PDF Online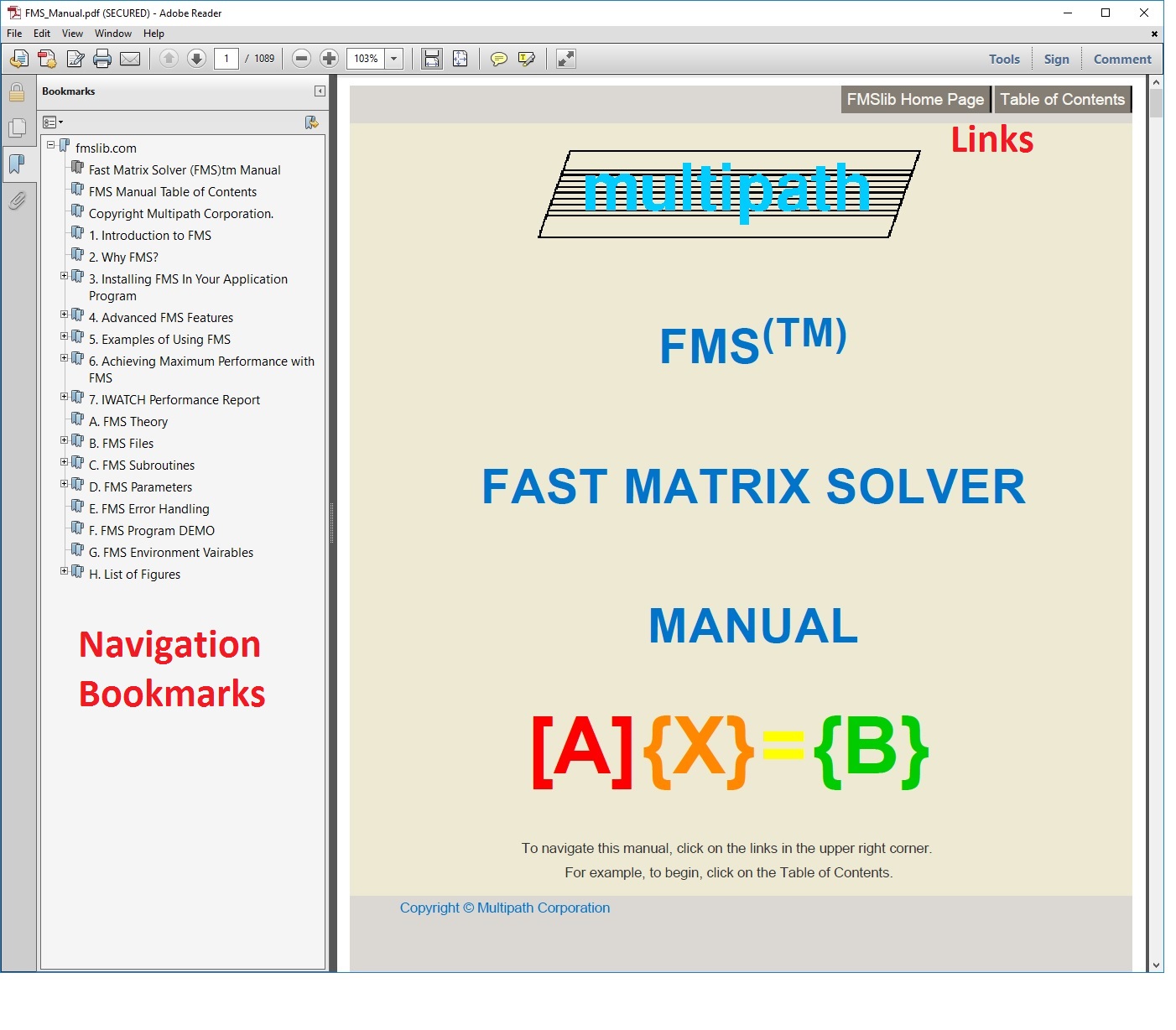 You may also view the manual as a PDF document online by clicking on the
View PDF Online
link at the top of this page. Depending on your browser and plugins, the bookmark pane on the left used for navigation and the links at the top to move between pages may not function properly. Installing Adobe Reader (or a similar utility) may solve some of these problems, especially on mobile devices (tablets, etc.). If your browser gives you the option to view it with Adobe Reader, select it.
Download PDF Version
As described below, you may download the PDF version as a single file. When displayed on your PC or workstation using Adobe Reader, the bookmark pane and navigation links work properly.
Download the HTML Version
The HTML version can be downloaded as a compressed tar file. For instructions on downloading and installing this version, refer to the document
Installing the FMS Electronic Manual
for further instructions.
Downloading
Both the HTML and PDF versions are available to download. The following table provides the links and file information:
FMSlib Manual Downloads

| Download Link | File Name | Size | Updated |
| --- | --- | --- | --- |
| HDML Version | fmsman.tar.gz | 1.3M | Thursday, 11-May-2017 09:35:32 MDT |
| PDF Version | FMS_Manual.pdf | 2.1M | Thursday, 11-May-2017 09:53:14 MDT |
New Features